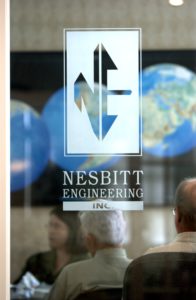 Nesbitt Engineering…
Uniting Talent With Excellence
What matters to you?
Imagination and Vision
Open Communication
Teamwork
Respect for the Individual
Honesty and Integrity
Social Responsibility
Work-Life Balance
Why Work for Nesbitt Engineering, Inc.?
Our Reputation
For more than forty years, Nesbitt Engineering, Inc. has provided professional consulting services in a broad range of disciplines, including civil, solid waste, environmental and surveying. Our office in Lexington, KY serves clients throughout Kentucky and afford us quick access to project sites, and to regulatory agencies in Frankfort.
Our Areas of Expertise
Civil Engineering
Regional facilities planning ♦ Water and Wastewater Treatment Plant Design ♦ Distribution Systems  ♦ Hydraulic Modeling ♦ Feasibility Studies ♦ Pump stations ♦ Tanks ♦ Geotechnical Design
Environmental/Solid Waste
Statistical Analysis of Groundwater Data ♦ Phase I, II and III Environmental Site Characterizations ♦ Geological Characterization ♦ Groundwater Monitoring Plans, Assessment and Remediation Plans ♦ Aquifer Characterization ♦   UST & HAZMAT Site Analysis ♦ Solid Waste Landfill Planning Design ♦ Regulatory Agency Compliance Assistance ♦ Contamination Characterization Studies
Land Surveying
Mineral Volume Surveys ♦ Utility Pipeline Route Surveys   ♦ As-Built Surveys ♦ Boundary and Topographic Surveys ♦ Legal Descriptions ♦ Expert Witness Services ♦ Easements ♦ Subdivision Design
Our Benefits
We have the benefits you have learned to expect.  Health Insurance, Dental Insurance, 18 days paid leave your first year, holidays,
Long -Term Disability Insurance, tuition reimbursement, 401K Plan,   125 Cafeteria Plan.
You will have opportunities to attend state and national conferences and seminars. Stay active and participate in technical and professional societies and we'll pay your annual dues!   Serve as officers in local chapters or submit technical papers at regional or national association meetings.    When you're ready, we'll pay your fees to acquire professional registrations, as soon as you're prepared to take the exams.
If you would like to be considered for a career at Nesbitt Engineering, Inc.,
please fill out an application by clicking here for our online employment application.
Resumes can be sent to info@nei-ky.com